I have felt like a really neglectful mother lately because I have not been spending nearly as much one on one time with my daughter as I should. She went from it just being the two of us to it now being the three and sometimes four of us (we have joint custody of FI's son). Between work, wedding planning, her school and gymnastics, and oh yeah, we're buying a house, I am just so exhausted and there is so little free time.
So Saturday night I made a pledge to myself not to say the wedding for the next twenty four hours and focus soley on her. We went to the mall, had dinner, rode the carousel (yes there is one IN the mall here) and then cuddled up and watched Ramona and Beezus.
Then yesterday we went to the Museum of Science here in Boston. It is awesome. If you ever come to Boston you should totally check it out. She was obsessed with the new space exhibit that just opened. It was warm out so we even got to take a short walk along the river. She told me it was one of her best days ever :)
Highlights of the Museum of Science (MOS) include the large T-Rex
The Electricity Chamber (not the real name but it should be)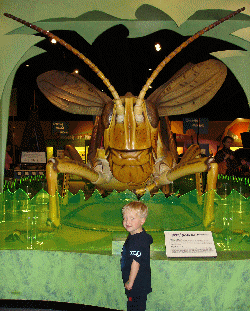 I will post my own pictures once I upload them onto my computer tonight.
As promised, pictures of beautiful little Annabelle.
At the model display. There is small scale train that runs underneath the giant grasshopper.
Triceratops skeleton and a bit of a diva face :)
Annabelle and I at the space exhibit. Thank you random dude who took the pic for us.
Annabelle amazing the space display guy with how smart she is :)
She even got to wear his jacket
What do you do to keep yourself sane? For me, it's time with Annabelle.